Start. Run. Grow. Protect. Profit.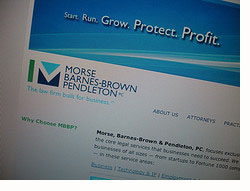 That line reads like a new year's wish, but it is the everyday, client-focused objective of Waltham, Massachusetts based law firm Morse, Barnes-Brown & Pendleton. I am happy to report the launch of its new web site — the first of 2007 from Infoworks!. It went live on January 1st at mbbp.com.
MBBP focuses exclusively on the core legal services that businesses need to succeed. The firm's attorneys assist businesses of all sizes — from startups to Fortune 1000 companies — in these service areas: Business Law, Technology & IP, Employment & Immigration, and Taxation. Check it out and let me know what you think.
Happy New Year!