Only about 30% of clients are satisfied with their law firms. This according to BTI Consulting Group Inc.'s survey "How Clients Hire, Fire and Spend: Landing the World's Best Clients" just published. This client satisfaction survey result is a return to 2003 levels. How you view this news depends on your approach to clients and sales.
Good news/bad news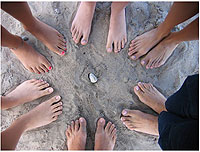 It reminds me of a great vignette that opens a chapter in The Art of Possibility, by Rosamund Stone Zander and Benjamin Zander, where two marketing scouts for a shoe manufacturer are sent to a remote country. One sends back a telegram saying:
SITUATION HOPELESS STOP NO ONE WEARS SHOES
The other one wires back:
GREAT BUSINESS OPPORTUNITY STOP THEY HAVE NO SHOES
Such is the case with law firm client satisfaction. If roughly 70% of clients are dissatisfied with their law firms, then conditions are ripe
for new sales. But which scout is your firm? Is your firm vulnerable to
clients leaving, or positioned to capitalize on this market condition?
BTI predicts that "in the wake of this year's depressed client
satisfaction, law firm hiring is set for a rise."
BTI promotes the report as a valuable guide in learning how to serve and protect your law firm's most valuable assets — clients — with lessons such as:
how clients select and hire law firms; how clients manage firm
rosters; changes clients are making to improve performance; what
differentiates a law firm in the eyes of clients; how to avoid rate
pressure; and more. Download executive summary.
The report is based on over 1,000 individual, independent interviews with corporate counsel at large and Fortune 1000 organizations. BTI's annual research for 2006 relies on more than 200 individual, independent interviews conducted between July and October 2005.