It's expensive – whether we're talking money or resources. There's no "free" energy, sadly. I'm referring to the question of how we're going to proceed on the question of nuclear power in the wake of the ongoing nuclear disaster in Japan.
Earlier today I read about Iowa's nuclear problem. Let's talk money. From the article:
MidAmercian Energy wants to explore the possibility of constructing a nuclear power plant in Iowa. They want their utility customers to pay higher rates to pay for engineering studies necessary for the plant, which may not even get built.

Historically, when a utility wants to add new generating capacity it must build the plant and begin producing electricity before seeking to recover the costs from its customers. They can only recover costs that are reasonable and prudent.

Last year, the Iowa legislature considered cost recovery legislation that had a provision empowering the Public Utility Board to require competitive bidding for new electricity resources. Under that approach, only if nuclear is cheaper can the project proceed, but MidAmerican knows nuclear is much more costly than efficiency, natural gas or wind, so this year's bill drops that language.

We argued against this measure last year. This year's measure is worse.

The shareholders, the ones that will benefit from increased profits, should take on the risks and expenses related to this project, not the captive customers.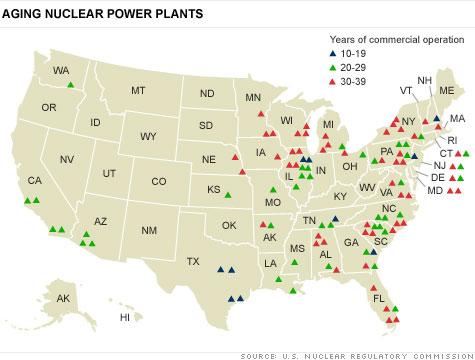 It seems unreasonable to argue with the Daily Sentinel's reasonable argument. But you can bet that there will be plenty of argument and shifting around of responsibility, because nuclear power plants are incredibly expensive to build.
Forget about the problem of radiation leakage in the event of an accident. Just on the basis of expenditure, maintenance, and upkeep, nuclear has a huge financial drawback.
Take a look at Do We Really Need Nuclear Power? (subtitled "After Japan, everyone's asking the question—and the answer is more complicated than you think") by Bradford Plumer.
The pro-nuclear power argument, as rhetorically laid out by Plumer, goes something like this:
…nuclear power carries some risks, but those aren't nearly as great as the risks of burning coal, cooking the planet, and sending all sorts of deadly pollutants into the air. Air pollution kills two million people per year and much of that is due to fossil-fuel combustion. The right answer is to learn from Japan's mistakes and improve nuclear safety. (It's also worth noting that the next generation of reactors are supposed to be even safer.) No energy source is risk-free, and nuclear is one of our best bets. Right?
That's compelling – if you count up deaths, then you might conclude that nuclear is safer. Surely, it's not killing 2 million people annually.
But as Plumer goes on to illustrate, the financial calculations are a different matter. The US, for example, gets 20% of its energy needs from nuclear and has 104 plants. (I did not know this; it's a substantial number of nuclear plants and a substantial percentage of power.) What's standing in the way of nuclear power plant expansion isn't "the fear of fiasco" via melt-downs. It's cost:
New nuclear plants go for at least $10 billion a pop—and that's before cost overruns inevitably set in (as has happened with a much-hyped new reactor in Finland). Building intricate concrete and steel structures that can withstand all manner of disaster is a costly enterprise. According to a 2009 MIT study, "The Future of Nuclear Power," getting electricity from nuclear costs about 8.4 cents per kilowatt hour, compared with 6.2 cents for coal and 6.5 cents for natural gas. Other industry analysts have suggested that the MIT study is too optimistic, and that power from new nuclear plants could cost twice as much. (source)
Now you can see why MidAmerican Energy wants to stiff the customers for building a new plant. They probably can't afford to do it on their own. Additionally, as Plumer notes, private companies like MidAmerican Energy might now realize that post-disaster remediation can really bite. Even Three-Mile Island cost $1billion and 14 years to clean up (1998 figures?). Plumer refers to a 2007 report by Charles Ferguson of the Council on Foreign Relations, and then observes: "all of the 104 reactors currently operating in the United States will likely need to be decommissioned by mid-century. Replacing those reactors (so simply preserving the status quo) would mean building a new reactor every four or five months for 50 years."
Did I mention that they cost $10 billion each?
Read the whole article – it covers a lot more than the cost of nuclear power plants, and goes into a lot of detail about the feasibility of getting energy from renewables. But the bottom line? There's no magic bullet.