I just watched Anthony Horowitz's most recent Foyle's War episodes (supposedly these three in Series Seven are the last, full stop – but that's what they said the last time around, and then Foyle was resurrected: so there's still hope for more). It's an arresting series; I highly recommend it.
What always strikes me when I watch British TV is the regular recurrence of actors I recognize from many other shows: the longevity of character actors (versus "stars") is astonishing. And so is their versatility.
Take Anastasia Hille, who appears as Jane Devereaux in The Hide, the final episode (#22) of Series Seven. She plays a supporting role as the second wife of Sir Charles Devereaux, whose son is on trial for treason against England (he joined the British Free Corps, a pro-Nazi group). There are some pretty loopy plot twists in this episode, but it's played dead straight. On the other hand, Hille has also acted in completely over-the-top episodes of Jeeves and Wooster, as well as in a recent Inspector Lewis (the follow-up series to Inspector Morse, which was [imo] better): there, she believably played a wholly unbelievable psychopath cut from full hysterical cloth.
Hille's colleague on the set of Foyle's War was Will Keen, whom I've also seen in a few popular British TV shows. Like the others in this episode, Keen gets around, and none of these actors seem to mind playing in some pretty silly shows (Midsomer Murders, anyone?). Maybe it's because they're professionals and they just know that they're really good.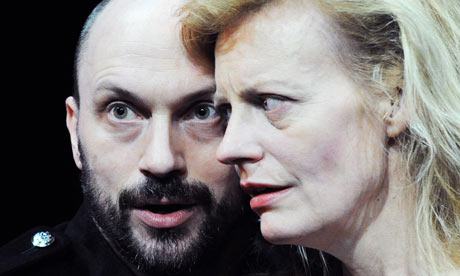 Here's a photo of Keen and Hille on stage together, in a production of Macbeth. (See The Guardian review; photo by Tristram Kenton.)
Yes, opposite Stephen Fry and Hugh Laurie on the set of Jeeves and Wooster one day, on the boards in front of a live audience doing Shakespeare the next. Not bad.
Come to think of it, there's a long tradition here: Diana Rigg's Emma Peel could knock 'em dead on The Avengers, and she was no slouch when it came to the classics, either.
That's versatile.