When the oil spill disaster in the Gulf of Mexico began, I noticed some bittersweet satirical tweets reporting a windspill. For example, five days ago: "Hope u r ready to help clean up the inevitable windspill. :)" Or, three days ago: "BREAKING NEWS: Massive Windspill at WIndfarm… Residents complain about the breeze!"
By yesterday, Daily Kos published a "windspill" satire, and by today "windspill" made it to The Huffington Post: "BREAKING: Large Air Spill At Wind Farm. No Threats Reported. Some Claim To Enjoy The Breeze. (PICTURE)"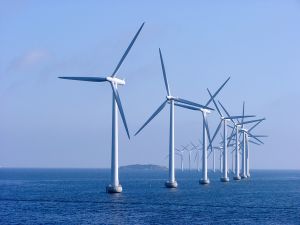 It's one of those satires that's truly mordant. If only, if only…, we think, as the #oilspill disaster also known as #fuckbp spreads.
But why don't we have a windspill "disaster"? Wouldn't it be a stroke of luck, …instead of the mess we really have?
On April 29, Sarah Green, associate editor at the Harvard Business Review, posted From Oil Spills to Wind Farms, From NIMBY to BANANA. In her article, she gets to the heart of that question by pointing to NIMBYist (or BANANAist) obstructionism.
(If you're not familiar with the acronyms, NIMBY stands for "Not In My Backyard" and BANANA stands for "Build Absolutely Nothing Anywhere Near Anybody [or Anything]."
Green describes the attempts to get wind farms built near Martha's Vineyard and Nantucket, both of which depend heavily on tourism. For the past ten years, residents and other stakeholders have blocked the construction of wind farms, arguing that they'll destroy the ambiance.
Energy, it seems, is something we can get elsewhere, from a wall socket or from petroleum that's extracted (and refined) far, far away (in someone else's backyard…). At home (in our backyard), we can maintain the status quo. The latter may be completely artificial, but it's familiar and therefore comfortable.
Green asks:
So how will the energy industry — and the rest of the economy, which relies so heavily upon it — move forward when citizens seem determined to maintain the status quo? Politican after politician has espoused the need to create green jobs to revitalize the American economy and put it on a path to the future. The pages of HBR, among many others, have pointed to the necessity of building sustainable businesses to remain competitive in a world where companies will increasingly have to pay the costs of what were once dismissed as "externalities." But as the local case study of Cape Wind makes all too clear, knowing that something is an economic necessity is very different from actually embracing it when it shows up on your own shores. (source)
Given what the Gulf residents will have to embrace when it shows up on their shores, maybe opposition to the construction of alternative power sources will soften.
(PS: I'm writing this on yet another day with wind warnings in effect for Southern Vancouver Island. While it's always windy here, the past six weeks have been especially unrelenting. Earlier today, I posted a tweet with the hashtag #surrenderdorothy: it's so harsh, I expect to see angry flying monkeys sweeping by, ready to take a swipe at us for not harnessing our wind energy here. What's stopping us?)