July 27th, 2008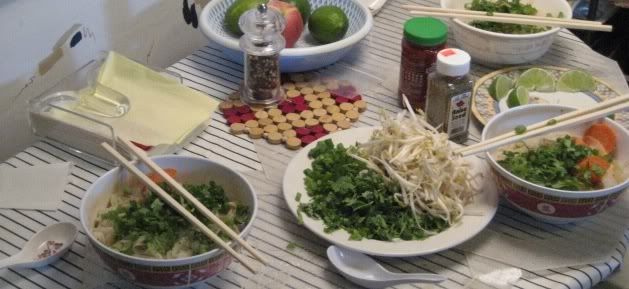 Pho-gettaboutit: Kids, don't try this at home.
I stay at K & A's place in Queens for the weekend and repay their hospitality by attempting to make phở for Sunday lunch (above). You can order this aromatic noodle soup at any Vietnamese restaurant, but what says disast…er love better than a homemade meal. With less than two hours to prepare, I "Rachael Ray" a version of chicken pho (phở gà) from the French trinity of carrots, onions, and celery and two varieties of bird, which we procure from the nearest Asian grocery. I simmer the birds whole and add a little bit of K's entire spice rack to the broth. Unfortunately, I forget to buy fish sauce and have to substitute shrimp paste for it. To make matters worse, the noodles absorb too much water. Needless to say, the results are short of a culinary disaster and not something I would put on the résumé. My apologies, K & A.
Traditional phở begins by parboiling and then slowly simmering beef bones in water for hours to release the flavor from the marrow. After skimming the scum, the clear broth is then flavored with a pungent blend of charred garlic and ginger, anise, coriander, cloves, cinnamon, and most important of all, fish sauce. After the broth is strained, rice noodles, scallions, onions, and the meat (raw and cooked beef, tendon, tripe, etc.) are added. The soup is often served with a plate of fresh garnishes such as lime wedges, slices of green chili, basil, mint, cilantro, and bean sprouts.
However, even with the right ingredients, phở is still difficult to pull off. What you pay 6 bucks for at the restaurant and get delivered to your table in 6 minutes or less probably took 3–6 hours to develop all that flavor. For this reason, phở has become the one Vietnamese dish which no Vietnamese family wants to or dares make at home. Relatives lack both the confidence and the time to prepare phở from scratch. If anyone asks, we will take you to our favorite restaurant instead. Viet World Kitchen has a excellent page on the history and evolution of phở along with great tips and shortcuts to making both the beef and chicken varieties, but my advice is to leave phở to the pros with their giant stockpots and burners, oodles of bones and oxtail.
Here in Harvard Square, I get my phở fix at Le's (formerly Pho Pasteur). In Boston, there's a pan-Asian restaurant called Pho Republique, which offers more Chinese options than Vietnamese ones, yet swears by its title on the merits of its fine dining version of the soup. For $18, you can slurp a luxurious bowl prepared with duck meat. Neither restaurant, however, beats the hole-in-the-wall miracles in Westminster and Silicon Valley that I used to patronize with my family while growing up in California.
In the mainstream imagination, phở is as Vietnamese as nail salons but you never hear comedians make fun of the former like they do of the latter. In the last decade or so, the Vietnamese specialty has earned an international following, having entered greater public consciousness in America thanks in part to culinary evangelists like Anthony Bourdain who writes glowingly of phở and Vietnamese gastronomy in his travelogue, A Cook's Tour. So popular has this dish become that it was finally added to the Oxford English Dictionary in 2007, and the Official Scrabble Player's Dictionary can't be far behind.
For Vietnamese-American writers, phở is the equivalent of Proust's madeleine, a national food item evoking a complex halo of associations. Only the memories that phở evokes tend to be less sunny and definitely less bourgeois in character. In fiction, phở is often associated with rustic poverty as is the case in Andrew Pham's Catfish and Mandala and Monique Truong's The Book of Salt (2003). The latter, a historical fiction, conjures the story of Binh, a Vietnamese exile hired as a cook by Gertrude Stein and Alice B. Toklas for their Parisian apartment in the 1930s. Here, while Binh reflects on the exploitation of child labor in Vietnam, his description of phở insinuates at a parallel form of child abuse:
The payment that the three [boys] usually received for their services was the last slurp of broth from the vendor's lunchtime bowl of phở. Lukewarm, beefy, but with no beef left, just a flotilla of broken noodles, and if they were lucky, at the bottom of a bowl, a bit of gristle that had been bitten off and spat back into the broth.
As "a flotilla of broken noodles," a simple bowl of phở becomes inflected with the history of French colonialism through which it came about. The culinary metaphor is full of insight, since phở, the only Asian noodle soup to use charred ingredients, is believed by scholars of gastronomy to have derived from French pot au feu (prepared by the addition of a roasted onion for darker coloring). Phở thus registers both the triumph and tragedy engendered by cultural exchange between East and West. However, as with many products of colonialism, the bitterness of history is washed down by the sweeter narrative of international validation. From its humble origins, phở has become a meal fit for beggars and kings and everyone in between.
Entry Filed under: bourdain,fiction,Literature,madeleine,pho,proust,Rachael Ray,vietnam