Comments: 3 - Date: January 27th, 2009 - Categories: Uncategorized
Last week, Sarah wrote about experiencing President Obama's inauguration online. "I wasn't standing in the middle of an animated crowd," she wrote, "but watching a stream of my friend's statuses placed me amidst an equally excited digital crowd." For Sarah, watching the inauguration online was a fitting end to an ambitiously digital presidential campaign and transition; a way to experience a historic moment in the digital company of friends. The screengrab she posted, of CNN's live stream of the inauguration buffeted by friends' Facebook status updates, tells one side of the story—the side where college students sit in their dorm rooms, watching up-to-the-minute footage; absorbing history as it happens, in a strange combination of visceral and vicarious experience.
But what about the digital natives who were "really" there? How did they traverse the liminal zone between their screens and the scenes around them?
Two indelible images from Inauguration Day involved young people with cameras, capturing history for instant posterity. It's no surprise that digital natives would use technology to mediate their experiences, but seeing the mediation in action is confronting, inspiring, and somewhat curious.
As President Obama took the oath slightly after noon on January 20, cameras were evident everywhere in the audience. But right there, at the very front, Malia Obama foreshadowed what it will be like to have two have two tech-savvy young girls in the White House. Even as her father was making history, Malia was focused on her tiny pastel camera, documenting the moment for herself.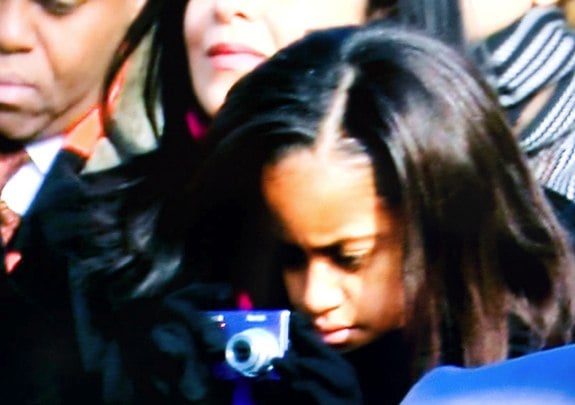 Incidentally, the photograph comes from an article on GearLive, in which the reporter revealed that Malia had been using a Kodak EasyShare M893 IS 8.1MP digital camera. Within minutes of Malia taking her own photographs, photographs of her with her camera were showing up on gadget blogs, complete with exorbitantly specific model information. A blog post from ABC News noted that "the first daughter is certainly not the first to document her experience at 1600 Pennsylvania Ave"; other White House residents have also followed the impulse. But the instantaneity of the Inauguration photography cycle served underlined the ubiquity of the impulse, and, more importantly, its ubiquitous expression. When even the president's daughter experiences her father's inauguration "through the viewfinder," this perspective transcends lark and becomes a force in its own right.
That force was in action again that evening, at a series of presidential balls. The Youth Ball saw the First Couple dancing "old school" to an instrumental version of "At Last", but the crowd seemed not to see it at all. Unlike the sweet promise of Malia's individual documenting impulse, there starts to be something almost sinister about the sea of outstretched camera phones that greeted the couple.
When I mentioned this curiosity to a friend this past weekend, he pointed me toward a blog post by Joanne McNeil over at Tomorrow Museum, exploring the meaning of this impenetrable mass of lenses and light. At one point, she asks "But what kinds of things don't we photograph?" and suggests that
"You probably didn't take a photo (you forgot to, didn't think of it) during nearly all of your happiest memories. Why would you want to interrupt a blissful moment? Distancing yourself from the action taking place and denying yourself the opportunity to experience it with your full attention?"
No matter the meaning of the scene, though, the fact of it is remarkable enough. While millions of people were at home watching history happen on their screens, thousands of digital natives were right there, in the moment—watching history through their screens, too.