December 4th, 2012
Citizen video in Southeast Asia has exploded in recent times, and has come to play a significant role in national and regional politics, documenting spectacular events, spearheading campaigns and uncovering scandals.
In this discussion, Andrew Lowenthal — Co-Founder and Executive Director of EngageMedia, an Asia-Pacific human rights and environmental video project — outlines EngageMedia's approach to video4change and their work in the region, in particular looking at West Papua, (a remote region of Indonesia that has been waging an independence campaign for more than 40 years), the development of regional, cross-border and multilingual video networks, and the effect and possibility of the internet and online media to generate new post-national political configurations and collaborations.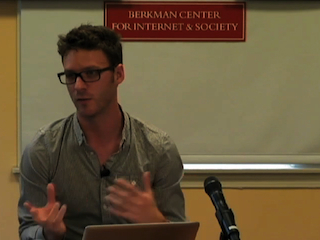 Also in ogg for download
More info on this event here.
Entry Filed under: Berkman Center,video