October 19th, 2010
Wikipedia's style of collaborative production has been lauded, lambasted, and satirized. Despite unease over its implications for the character (and quality) of knowledge, Wikipedia has brought us closer than ever to a realization of the century-old pursuit of a universal encyclopedia.
Joseph Reagle—a fellow at the Berkman Center for Internet and Society—discusses insights from his new book Good Faith Collaboration: The Culture of Wikipedia, a rich ethnographic portrayal of Wikipedia's historical roots, collaborative culture, and much debated legacy.
See Charles Nesson's recent blogpost about Good Faith Collaboration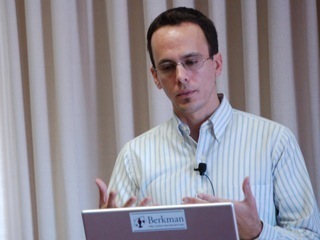 Click Above for Video
…or download the OGG video format!
Entry Filed under: Berkman Center,Berkman Luncheon Series,video