November 19th, 2009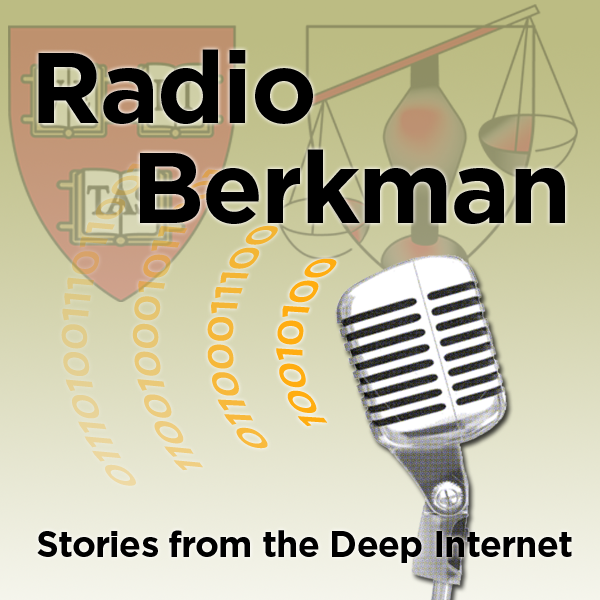 Is the fate of books a forgone conclusion? Will they just continue to make their way out of print and into digital form? This week's guest, author Cory Doctorow, suggests that we might want to keep books in print for a little while longer. Not just out of nostalgia – but actually to protect the institution of copyright.
Cory Doctorow — a longtime supporter of remixing and free culture, who releases his books under Creative Commons licenses — now throws his weight behind copyright. Huh?
Find out what happens when books meet bits on this week's Radio Berkman.
Listen:
or download
…also in Ogg!
This week's artists
Coconut Monkeyrocket – Accidental Beatnik
MorganTJ -Time Decay
The Reference Section:
Cory Blogs at BoingBoing
Cory in Toronto last week
David Weinberger posted a recent Broadband Strategy Week interview with Cory here
Download (or buy) Cory's brand new book Makers
See a partial transcript after the jump.
Prolific Author, Blogger, and Copyright Provocateur Cory Doctorow is something of an anomaly in the publishing world. He is the author of some of the most popular science fiction books in recent history, Down and Out in the Magic Kingdom, Little Brother, and Makers just released last month.
While you'll probably be able to find Makers, and Cory's other books, at the most popular bookstores in the nation – you can also find most of his novels and non fictions books on the web as a free digital download – not only free as in beer, but under a creative commons license so you can feel free to download, remix, and redistribute! While some in the industry say free downloads kill profits, encourage piracy, and destroy respect for copyright – Cory effectively says, bring it on!
So it may have caught some of Cory's followers by surprise when he came out in support of copyright at the National Reading Summit in Toronto last week. Wait, was he actually supporting the arguments of publishers who fear the death of their industry at the hands of millions of file sharing bibliophiles?
But while many in the publishing industry might argue for copyright restrictions to protect the future of the book from download happy readers, Cory is actually arguing for copyright as a means of protecting the existence of books from the hands of overly litigious publishers.
There is a distinction, he says, between the kind of licensing that publishers use to prevent readers from sharing, copying, or even permanently owning a text – and theview of copyright that would actually safeguard the rights of the reader. And what we learn from the publishing industry in this space can be used in film, music, software, and any other kind of digital media.
David Weinberger recently sat down with Cory to talk about copyright, the publishing industry, and the wonderful culture of the book. The interview was so fascinating we decided we couldn't cut any of it this week, so settle in and enjoy.
Cory Doctorow is author of Little Brother, Down and Out in the Magic Kingdom, and the recently released the book Makers. You can find his musings posted almost daily at www.boingboing.net. Want to find out more about Cory – maybe download his new book for absolutely free? Visit our website at blogs.law.harvard.edu/mediaberkman.
This episode of Radio Berkman was produced by me, Daniel Dennis Jones, with David Weinberger from the Berkman Center for Internet and Society at Harvard University in Cambridge, Massachusetts.
Entry Filed under: Berkman Center,radioberkman