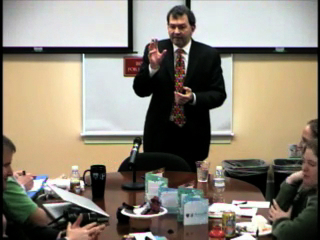 Download the MP3 (time: 1:13:05)
Ioannis Miaoulis, President and Director of the Museum of Science, Boston, was the guest speaker this week at the Berkman Center's Luncheon Series.
Dr. Miaoulis discussed curriculum content for elementary, middle school and high school level and present how engineering makes all disciplines engaging, as well as his initiative at Tufts University to increase the number of female students studying engineering.
Dr. Miaoulis is an innovative educator with a passion for both science and engineering, Miaoulis championed the introduction of engineering into the Massachusetts science and technology public school curriculum. His dream is to make everyone, both men and women, scientifically and technologically literate.
Runtime: 1:15:56, size: 320×240, 209MB, .MOV, H.264 codec
2008-02-12_miaoulis
February 14th, 2008