November 1st, 2011
The growth of the global Internet is still determined, in large part, by local factors like geography, politics, and the economics of interconnection and competition. A lot is at stake, especially as the countries that emerge as Middle Eastern regional transit hubs play a significant role in the evolution of the region's post-oil information economy. In this talk James Cowie — Chief Technology Officer at Renesys Corporation — examines the paths along which Internet traffic flows, focusing on the emerging markets of the Middle East and Central Asia, discusses ways in which the evolution of these paths dictates the choices available to information consumers, and the costs they must pay to interconnect with global information markets.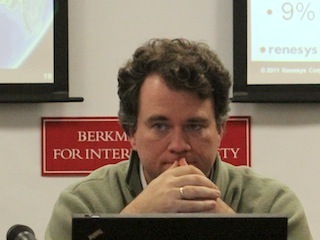 Click Above for Video
…or download the OGG video format!
More info on this event here
Entry Filed under: Berkman Luncheon Series,video