May 31st, 2011
User trust has been identified as a key success factor of online business: A user's willingness to provide personal data is a prerequisite for online transactions. But the qualities that communicate trustworthiness to a user are varied and difficult to parse.
Miriam Meckel — Professor for Corporate Communication at the University of St. Gallen, Switzerland, and the Managing Director of the Institute for Media and Communication Management — discusses the results of a recent study of users of online services, and identifies the nine core drivers of online trust.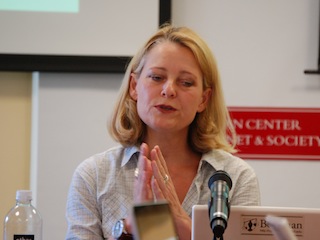 Click Above for Video
…or download the OGG video format!
Entry Filed under: Berkman Luncheon Series,video