June 16th, 2010
Internet Games, Social Inequality, and Racist Talk as Griefing
Internet gameplay is becoming more socially and culturally diverse and ubiquitous than ever before. Yet at the same time, the culture of griefing or pranking that dominates these games and other forms of networked social life such as Second Life and Chatroulette takes increasingly racist and racialized forms.
In this talk Lisa Nakamura — the Director of the Asian American Studies Program, Professor in the Institute of Communication Research and Media Studies Program, and Professor of Asian American Studies at the University of Illinois, Urbana Champaign recaps the history of racist griefing online and links the current crisis in racial discourse in the US with this practice, exploring the implications for digital games as a public sphere.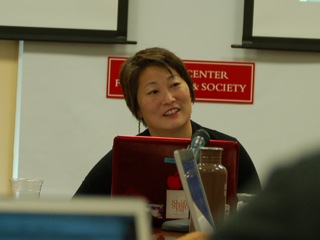 Click Above for Video
…or download the OGG video format!
Entry Filed under: video