January 22nd, 2008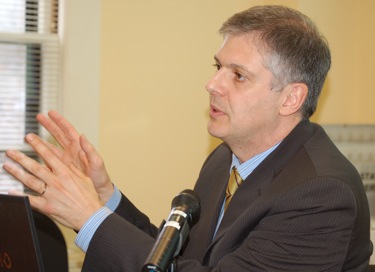 Fernando Rodrigues, Brazillian journalist and Harvard Nieman Fellow was the guest speaker this week at the Berkman Center's Luncheon Series.
Rodrigues spoke about journalism and access to public information in Brazil.
Journalist Fernando Rodrigues assembled a database with some 25,000 records of Brazilian politicians showing electoral information and personal data –including the list of personal assets of each politician who run for office in the three past general elections in Brazil (1998, 2002 and 2006). In 2006, the day the website was last updated, it drew 1,000,000 viewers. It is a free access website and voters can check whether a particular politician has increased his or her patrimony in a compatible way with the declared income. The database has also been an endless source of news stories for media outlets all over Brazil.
Collecting all that information was not an easy task, since Brazil does not have a Freedom of Information Act. Mr. Rodrigues also works with the National Forum of Right of Access to Public Information, a new advocacy group in favor of a FoIA for Brazil. The Forum teaches people how to require public information from government agencies despite that there is no clear legislation about it.
Runtime: 01:12:43, size: 320×240, 214.3MB, .MOV, H.264 codec
Entry Filed under: Berkman Center,Berkman Luncheon Series,Politics,video
January 22nd, 2008
Judith Donath on"Designing Society" – Podcast

Download the MP3
Entry Filed under: audio,Berkman Center,Berkman Luncheon Series,Governance