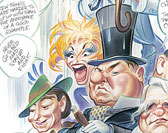 We've long asserted around here, along with 60 Minutes commentator Andy Rooney and grump-expert Jon Winokur, that:
"Curmudgeons are idealists at heart."
Scott Greenfield is one of my favorite fellow curmdugeons.  He makes a good case this Thanksgiving morning at his Simple Justice weblog that it is more important than ever in this season of economic distress that those able to do so give generously to charities, but "Give Wisely."  A little curmudgeonly skepticism is needed when we choose our charities this year.  That means:
"Given that charities may well die this year from lack of donations, it is critical that you know that your contributions are being put to the use that you intend, to help the cause the charity purports to represent.  This may require a little digging, perhaps spending a few minutes to check out CharityWatch.org, the website of the American Institute of Philanthropy, to see what percentage of donations actually make it to the cause.  However, many smaller or local charities are not included, so you may have to do the legwork yourself."  And,
"The mission of a charity may well be important and worthwhile, but it has to be viewed in relation to the irreparable harm that will result should the charity fail to fulfill its mission.  This year, it means that people will die for lack of food, shelter, medical care, warm clothing and other necessities of survival.  Not to denigrate many other worthy purposes, but imminent death trumps a lot of good causes."  Therefore,
"No matter how important other causes may be, and they are important, this is a year for charitable triage."
Please open your hearts and your checkbooks, but please do it with your eyes wide open — do it with the idealistic cunning of a skeptical curmudgeon.
We already said sentimental stuff wishing everyone a Happy Thanksgiving yesterday.  All there is to do today, then, is offer a few haiku appetizers as a prelude to your feast of gratitude with your loved ones.
Thanksgiving
without him
three-quarter moon
… w.f. owen – Haiku Notebook (Lulu Press, 2007)
laid off
she asks the mall santa to
bring dad a job
snow
the beggar's
bare hands
.. by Ed Markowski
in the glow
of the red maple
autumn's end
…… by Roberta Beary (1st Place tie [Kigo], Shiki Kukai, Nov. 2008)
wet snow

another year weighs
on the century oak
….. by tom painting  (3rd place [Kigo], Shiki Kukai, Nov. 2008)
home for Thanksgiving —
my old bed
in the guest room
mom makes
grandma's holiday soup –
steam and tears
… by dagosan
First snow
the white mounds of coal
beside the closed station
.. by Rebecca Lilly –  from A New Resonance 2 (2001); Brussels Sprout 9:3
cutting the moon cake
just like my mother
Mid Autumn Festival
……………………. Yu Chang from Upstate Dim Sum
p.s. Looking for a little inspiration and nudge toward Thanksgiving gratitude?  See our post about Morrie Schwartz (of Tuesdays with Morrie fame), "self-pity: the opposite of Thanksgiving".  I
On the other hand, if you need a curmudgeonly smile, check out and maybe even print out the amusing "Thanksgiving Guest Liability and Indemnification Agreement," prepared by The Center for Consumer Freedom, who say "Don't Let Lawyers Sue The Stuffing Out Of You This Thanksgiving" (Nov. 16, 2007; via Stephanie at Idealawg).